MDA Conference Bringing Neuromuscular Disease Experts to Orlando to Share 'New Era' in Treatment, Research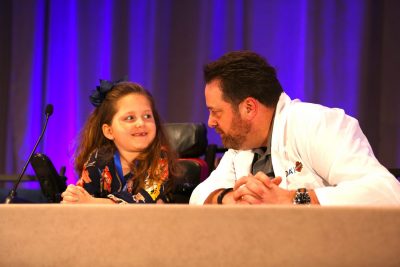 For more than four decades, comedian Jerry Lewis hosted the MDA Labor Day Telethon on behalf of the Muscular Dystrophy Association. That annual event helped the MDA become the nation's largest non-government source of funding for neuromuscular disease research, with more than $1.4 billion disbursed since its establishment 68 years ago.
Later this month, the Chicago-based nonprofit will combine its yearly clinical and scientific conferences for the first time with its 2019 MDA Clinical and Scientific Conferencefrom April 14–17 at the Hyatt Regency in Orlando, Florida.
"Jerry put us on the map," MDA president and CEO Lynn O'Connor Vos said in a phone interview with BioNews Services, which publishes this website. "A lot of people over 60 recognize the organization, but the question is now, how do we engage younger people in our cause? In coming months, you'll see a tremendous focus on science, care, and the future of research."
To that end, the Orlando conference is expected to attract more than 1,000 medical and scientific experts in a variety of neuromuscular disorders including amyotrophic lateral disease(ALS), Duchenne muscular dystrophy(DMD), spinal muscular atrophy(SMA) and Charcot-Marie-Tooth disease. BioNews Servicesplans to cover the conference onsite.
To register, click here. Fees range from $300 for students, $550 for nonprofit groups or patient advocates, and $650 for academic physicians, to $1,200 for industry executives.
The agendafeatures a keynote address by Janet Woodcock, MD, director of the Center for Drug Evaluation and Research at the U.S. Food and Drug Administration (FDA); an FDA panel led by Woodcock and Peter Marks, MD, PhD, director of the agency's Center for Biologics Evaluation and Research; 13 clinical sessions; 10 scientific sessions; and an MDA Scholars Networking Session aimed at showcasing neuromuscular disease research by 50 to 60 young MDA-funded scientists.
In 2018, the MDA awarded 88 new research grants worth a combined $23 million, in addition to 224 active grants with a total funding commitment exceeding $58 million.
"This is an unprecedented time of progress for neuromuscular disease treatments," the FDA's Woodcock said in a March 26 press release. "In just the last three years, new therapies have been approved by the FDA, providing previously non-existent therapeutic options to patients who need them most. I look forward to discussing and celebrating these successes, as we welcome a new era in neuromuscular disease treatment and research."
13 patient groups to participate
Since 2015, six new medicines whose development was funded by MDA have been given FDA approval: Strongbridge Biopharma's Keveyis (dicholorphenamide) for primary periodic paralysis; Sarepta Therapeutics' Exondys 51(eteplirsen) and PTC Therapeutics' Emflaza (deflazacort) for DMD; Mitsubishi Tanabe Pharma's Radicava (edaravone) for ALS; Alexion's Soliris (eculizumab) for myasthenia gravis, and Biogen's Spinraza (nusinersen) for SMA.
"Before 2016, there were really very few drugs in the neuromuscular category — and now 137 products are in the pipeline. Certainly SMA is leading the charge with Spinraza," said Vos, adding that researchers have submitted 261 abstracts, 230 of which will be presented in poster sessions over a two-day period.
In addition, Genentechwill sponsor a Patient Advocacy Pavilion at the conference, which will take up the entire convention hall of the Hyatt in Orlando. Among the 13 patient groups represented at that pavilion: the ALS Association, the Charcot-Marie-Tooth Association, Cure Duchenne, the Myasthenia Gravis Foundation of America, Parent Project Muscular Dystrophy, and the United Mitochondrial Disease Foundation.
"We want to be recognized as convening other organizations out there, and having them all come together as a community," said Vos. "There's too much work to be done for any one single organization. Obviously, funds are limited, but this is our time to get together, so that everyone will have access to what everyone else is doing."
Also featured at the conference is a two-part gene-targeting therapies session, as well as a newborn screening panel featuring John Crowley of Amicus Therapeuticsand other top medical and advocacy experts from various U.S. institutions. In all, the event encompasses 25 sponsors and nearly 30 booths.
Kristin Stephenson, the MDA's senior vice-president and chief policy and community engagement officer, said her organization is "incredibly grateful" that the FDA's leadership has agreed to be included on the conference agenda.
"We will soon have treatment options for so many disorders, where there was nothing a very short time ago," she said. "We're now thinking as a community about: how do we get access as broadly as possible, and what role will advocacy play in these decisions? It's a very exciting time, and conversations of this sort will certainly be filling the halls."